eHarmony.com is an online matchmaking site that takes a different approach from other dating sites in that it doesn't rely on searches to help you find your perfect partner.
Best for
Based on 8 ratings
Visit website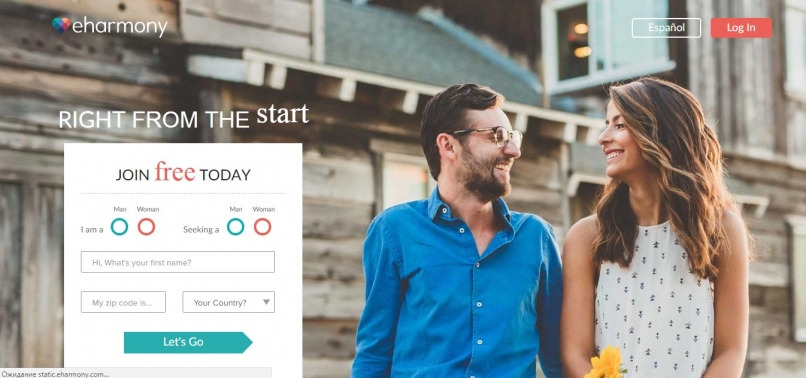 Instead, it uses results from a compatibility test to find people it feels are right for you based on your personality, values, beliefs, outlook on life, and ambitions. It also doesn't guarantee membership; if the results of your test show you aren't able to form a long-term relationship, they will not let you sign up.
eHarmony.com Main Features Reviewed
eHarmony's compatibility test is its main feature and you must complete it before you sign up. It's a lengthy set of questions which they claim were designed after years of research into couples who have had successful marriages. Once you've completed this test, you can look at potential matches before making the decision to sign up for eHarmony.com.

At least you can if eHarmony.com accepts you as this isn't guaranteed. They can and do turn people down. There are a number of reasons you might get turned down, e.g. if you've had more than two marriages as they then don't consider you suitable for a long-term relationship. Also, as the compatibility test is based on the results of successful heterosexual relationships, you're likely to be refused if you're looking for same-sex relationships.

If you want to become a paying member, you sign up for a monthly subscription, which is not cheap. You'll then be presented with matches. With eHarmony.com you cannot search for matches yourself. All you can do if you aren't happy with the people eHarmony.com say are suitable is change your requirements, e.g., the distance you're willing to travel for a date. Depending on the level of membership you choose, eHarmony.com will then provide you with icebreakers, sets of questions that help you start conversations.

As a basic member, you can look at photos of your matches, and send and receive unlimited messages. You can also upgrade to a premium membership (Total Connect), which offers a few more features (though at a pretty high price). These features include seeing who's viewed your profile, guided communication (icebreakers), identity verification, and making calls from an anonymous number that protects your identity.
eHarmony.com Pros and Cons Reviewed
Pros
Large number of members, though how many will be available in your area is unknown until you sign up

An international site with members in over 150 countries

Easy to use website that includes a mobile site and belarus mobile app
Cons
Compared to other sites, eHarmony.com is very expensive

Cannot search for potential matches yourself and have to rely on eHarmony.com finding the right person for you

Cannot talk to people who you haven't been matched with

Might not be accepted, something that's frustrating given the length of time it takes to complete the compatibility test

Limited number of matches because of the compatibility test; you could well sign up and pay for your membership and then have no matches come through because of your relationship requirements.
eHarmony.com Prices Reviewed
With eHarmony.com the compatibility test is free and, after you've completed this, you can see a list of potential matches in your area based on your results. To contact these matches, you'll need to pay a membership fee. There are two levels of membership, a basic plan called Unlimited Communication and a premium plan called Total Connect. Both are more expensive than comparable sites and the longer you sign up for, the lower your monthly price.
Basic membership (Unlimited Communication)
| | |
| --- | --- |
| Duration | Cost (USA) |
| 1 Month | $59.95 per a month |
| 3 Months | $57.95 per a month |
| 6 Months | $39.95 per a month |
| 12 Months | $18.95 per a month |
Premium membership (Total Connect)
| | |
| --- | --- |
| Duration | Cost (USA) |
| | |
| | $26.95 per a month ($323 totally) |
Overall: Is eHarmony.com a Scam or Trusted Site?
eHarmony.com is a well-known site. It is easy to use, though the registration process is long and laborious and might still result in your being turned away by the site. There is also the risk that, because eHarmony.com makes matches for you and does not let you search for people yourself, you will pay a membership fee and then have few, or no matches appear. As the site is already more expensive than comparable sites, this could make it a costly waste of time.
The other thing to note about eHarmony.com is that, despite it's high-profile, it doesn't have the best reviews. eHarmony.com reviews show a lot of members complain about paying the high membership fee to have no matches then available. Other say that they receive no responses from the people they are matched with and feel they have no recourse; complaints to customer services go unanswered. Both of these factors suggest that eHarmony.com could be a scam and an expensive one at that.