Launched in 2007, Zoosk.com is a former Facebook application which developed into a proper dating website. It requires the traditional sign-up process – creating an account with password and email.
Best for
Based on 9 ratings
Visit website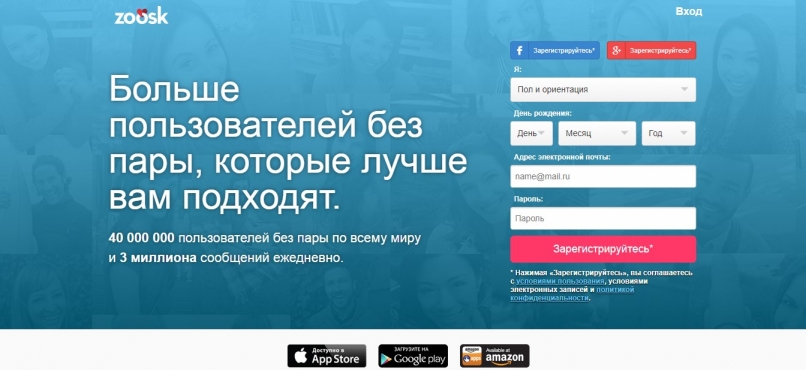 You can also use your Facebook profile for this purpose, giving the website an increased dimension and lowering the chance of fake profiles. This Zoosk.com review will help you to learn about the different features along with the strengths and weaknesses of the website.
Zoosk.com Main Features Reviewed
The website offers you to use the data which you have already displayed on your Facebook profile. When you connect it, the basic information including the profile picture, the 'about you' text, your likes and dislikes are automatically displayed on the Zoosk.com profile. You can always edit it as per your preference before updating the profile.
Testimonial and the Ice Breaker Question
The website allows you to ask your friends to write testimonials for you. This gives a brief intro about your personality to the prospective dates and matches. Another interesting section is the icebreaker question where the other members are given a chance to respond to something when they aren't sure about what to say.
All the images and text are moderated before they are uploaded to a website. They have a proper approval process and inappropriate content doesn't make it through their filters. This process can take a few minutes or hours before getting completed.
Even if you link your Facebook account to your Zoosk.com profile, the members will not be able to access that Facebook page. However, as you do the linking process, make sure you do understand what information will be shared on the russian dating platform. Also, be aware that notifications will be enabled on your Facebook and a confirmation posted on your wall.
Who likes to hear that they are not popular with the masses? When you first sign-up, your popularity level on the website will be something around 6,423,753. In order to keep the ranking up, you would have to buy coins so that your profile is one of the featured ones. This is another way of paying money for being more visible to the other members.
When someone tries to contact you through the website, you will automatically be notified through a text message alert.
There is a downloadable messenger for the members to connect with each other and share some healthy conversation. This feature is not free of cost and members with an unpaid subscription will not be able to see the messages sent to them.
This is another strong feature facilitating communication and lets the members send messages to each other. However, the basic members are only allowed to read one message from each person. The feature is criticized in many Zoosk.com reviews as there is no way for the free members to contact each other.
Zoosk.com Pros and Cons Reviewed
Pros
The setup process is pretty simple and one can even use the Facebook profile to update all the relevant information.

It is a large network consisting of more than 30 million users around the world.
Cons
The online dating website is only free to move through different profiles. As soon as you contact someone, the payment needs to be done for advanced membership.

There is no proper verification for the profile creation process as syncing with Facebook doesn't provide any authenticity.

There are millions of fake profiles on Facebook as well, thus, Zoosk.com is a scam as it doesn't require any strong proof of the identity of the user.

The website does offer a number of features but none of them can be enjoyed free of cost.

Many of the messages received in the inbox are computer generated, thus, your $120 fee gets wasted.
Zoosk.com Prices Reviewed
The website has been criticized in a number of Zoosk.com reviews regarding the subscription payment required to access even the most basic features. Most of the times, this fee renders to be useless for the user as he has to pay it to read scam messages or communicate with fake profiles.
Subscription Prices
| | |
| --- | --- |
| Duration | Cost (USA) |
| 1 Month | $19.95 |
| 3 Months | $16.65 per a month ($49.95 totally) |
| 12 Months | $12.49 per a month ($149.88 totally) |
Zoosk Coins
| | |
| --- | --- |
| Number of Coins | Cost (USA) |
| 5 Coins | $1.00 per a coin ($5.00 totally) |
| 20 Coins | $1.00 per a coin ($20.00 totally) |
| 75 Coins | $0.67 per a coin ($50.00 totally) |
Overall: Is Zoosk.com a Scam or Trusted Site?
Because of the high ratio of fake profiles and frequent scam messages sent by the website itself, it is not a trusted platform to find a dream match for yourself. The users often complain about the high rates charged for accessing different features and the few genuine profiles actually available to find a prospective partner for themselves. Thus, this Zoosk.com review will give a thumbs down to the website.