RomanceCompass.com is an online dating website, which lets the member get in touch with Russian or Ukrainian females.
Best for
Based on 9 ratings
Visit website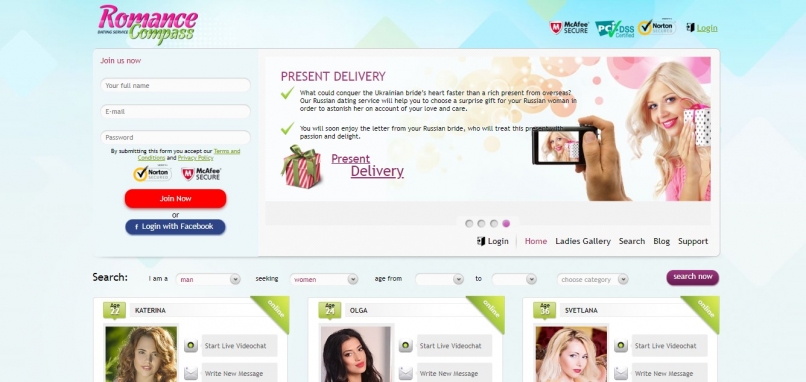 One can get certain detailed categories of the profiles on this website. The website can also work for people looking to get married, in case they get serious in the relationship. However, after you have spent enough time on this website, you will feel that the profiles are too good to be true.
RomanceCompass.com Main Features Reviewed
Any user can join this website for free, and, thus, create a profile, however, communication with the other person will require you to pay a particular cost, which will give you credits.
The website offers the service of live video chat, and, messaging in person, however high costs are involved to use this feature.
RomanceCompass.com Pros and Cons Reviewed
Pros
The women shown on the website are extremely beautiful and seem perfect to date

You can mark your favorite profiles

You can view the profiles for free.
Cons
You cannot communicate with the ladies for free, and your membership fee is required to chat with the ukrainian ladies, and to use other features

When compared to other such sites, the membership fee is extremely high

The ladies showing interest appear fake, and, it seems that the profiles of the ladies are taken from other sites

Prior to signing up, the website does not clarify what all features will be available after paying the fee.
RomanceCompass.com Prices Reviewed
There are no registration charges to join RomanceCompass.com, and, the members can make a profile, and view the website with a basic membership plan. However, you need to pay for credits in order to be able to utilize certain of the best features presented by RomanceCompass.com. These features include chatting with other females of your interest. In order to use the additional features, you will be required to purchase credits, the prices for which are extremely high. The site requires you to pay for each and everything, watching a video clip will be around $12. Even replying to the received messages is not free, and will require you to pay $5 for replying to each and every message. Obtaining any kind of personal information regarding your interest will require you to pay $25.
Overall: is RomanceCompass.com a Scam or Trusted Site?
The reviews of RomanceCompass.com show that the website is a scam. Many users have complained that they feel cheated after joining this website. In most of the cases, the profiles are fake, and the girls talk to men only for money. Some even state that the girls are paid money to write letters, and it is not every time the same person who replies to the emails. Also, the girls on this website, don't look anything less than supermodels, and it is difficult to understand why such good looking girls will need such kind of a website to find a partner. There have been many cases, in which the girls have happily chatted with the person, but, made an excuse when asked to meet or share contact information. Moreover, many of the profiles seem to be taken from other social media dating sites, which further emphasis on the fact that it is actually RomanceCompass.com scam.