Online-Dating-Ukraine.com is an online dating agency that specializes in matching men from across the world with women in Eastern Europe.
Best for
Based on 5 ratings
Visit website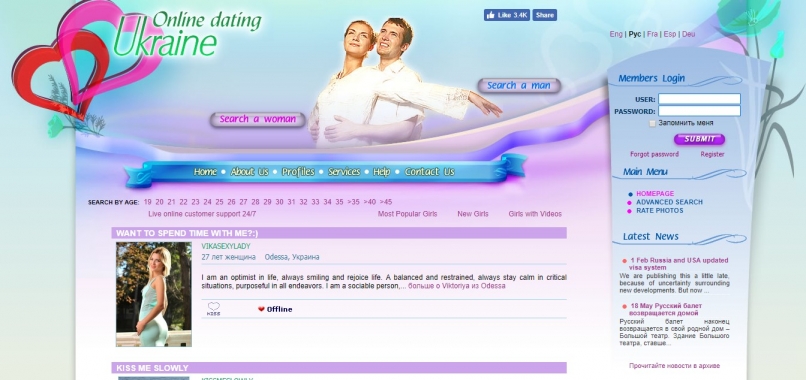 A lot of these women are added to the site through their local marriage agency and so appear on multiple sites, some of which are also operated by the same company. This may make developing long-lasting relationships more difficult as they will be in contact with men across several sites.
Online-Dating-Ukraine.com Main Features Reviewed
Once you have registered for Online-Dating-Ukraine.com, you can browse the profiles of thousands of women interested in meeting men, especially those from Western Europe, Canada, and the US. For those you are interested in, you can send them messages, say hello through chat, watch videos and take part in video calls or phone calls, which Online-Dating-Ukraine.com will arrange a translator for. They will also arrange for flowers or gifts to be delivered and background checks on women you would like to get to know better.
Online-Dating-Ukraine.com Pros and Cons Reviewed
Pros
The site is easy to navigate and register for.

There are lots of attractive women on the site, though as mentioned previously they may also be registered for other dating sites too.
Cons
There are no background checks carried out on the women unless requested and paid for by the client, which could suggest scams

The costs can be more than initially expected and are hard to gauge in advance because the number of credits needed to pay for features such as opening emails varies depending on the woman you are talking to.
Online-Dating-Ukraine.com Prices Reviewed
The site is free to join, and then you buy credits to gain access to each feature.
| Credits | Cost (USD) |
| --- | --- |
| 20 Credits (min) | $40 ($2 per a credit) |
| 60 Credits | $65.40 ($1.09 per a credit) |
| 100 Credits | $100 ($1 per a credit) |

You use credits to pay for each feature, and the number of credits needed will vary. You can send a letter without using any credits, for example, but need to use credits (anywhere from 0.5 to 20) to open messages sent to you. The number of credits needed depends on how popular the woman is and whether she is being represented by a ukraine marriage agency or any other marriage agency. You cannot send another letter until you have opened ones sent to you.
Overall: is Online-Dating-Ukraine.com a Scam or Trusted Site?
This is easy to use the site that allows you to look at photographs of the women listed without paying for credits. However, using all other features on the site comes with a cost and these costs can add up if you are talking to more than one woman or using video chat etc. Online-Dating-Ukraine.com reviews suggest that, while the women featured are real, they may not actually be available, with some already in relationships, or they may be communicating with men on multiple sites, reducing the likelihood of serious relationships developing and suggesting that Online-Dating-Ukraine.com may be a scam site.