Ladadate.com, named after the Slavic goddess of love, is a dating site linking men from around the world (particularly the United States, Canada, United Kingdom, and Australia) with women from Eastern Europe looking for long-term relationships, including marriage.
Best for
Based on 20 ratings
Visit website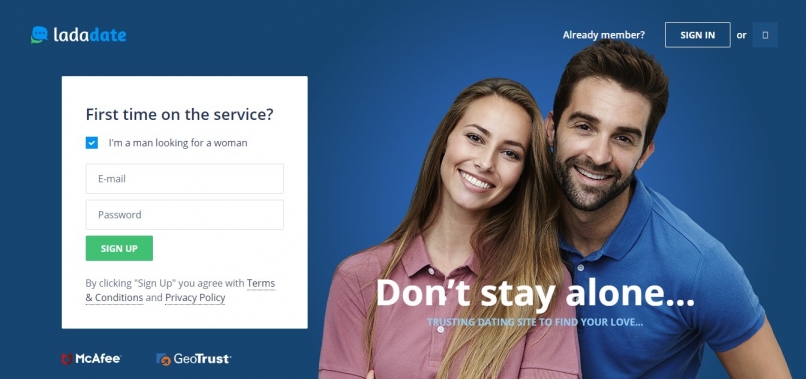 Ladadate.com Main Features Reviewed
Ladadate.com's main features focus on connecting men and women through their online platform. Once registered can search through profiles of women, filtering on age, location, and personal preferences such as hair color. When you find a woman you're interested in, you can send them a message or start a live chat. You can save their contact details, so you can continue to talk to them or, if they aren't of interest, add them to an ignore list so they don't come up in future searches. If you'd like to, you can also send gifts through ladadate.com.
Ladadate.com Pros and Cons Reviewed
Ladadate.com is easy to sign up for, letting you use your Facebook log-in if you would like (pulling your information from your profile to save you having to enter it again). It's also easy to use, with a simple dashboard that includes details of your account, saved profiles, invitations, messages, and chats.

Accounts can only be created by men and it's not clear how women are added to the site, though Ladadate.com says they verify them prior to adding them. The site also says men will receive a high number of responses, something that may suggest a scam as interest cannot, in theory, be guaranteed.

Once on the site, women can talk to men for free; men have to use credits for all features other than opening messages. This could be expensive if the interest levels are as high as Ladadate.com promises.
Ladadate.com Prices Reviewed
Men can sign up for free and there is no membership fee. Instead, customers buy credits they then use to purchase activities including sending messages (7 credits), watching videos (10 credits) and taking part in live chat (1 credit per minute). They can also use credits to buy gifts, ranging from a big toy for 140 credits to a certificate to buy jewelry for 720 credits.
| Credits | Cost (USD) |
| --- | --- |
| | |
| | |
Overall: is Ladadate.com a Scam or Trusted Site?
Ladadate.com is an easy to use site with a simple payment plan that lets you control what you spend. However, given that each feature has a cost, it could be easy for these to add up quickly, even if buying the higher number of credits, especially if you end up buying women you are interested in gifts.
The site does have a wide range of attractive women on there, all of whom Ladadate.com say have been verified. They also say that customers will get a high response rate to their profiles. Ladadate.com reviews suggest that many of these women are responding to multiple men and are potentially featured on numerous sites, making customers question their intentions and whether Ladadate.com is a scam.