Mingle2.com is an online dating site with an international reach but which mainly includes users from the United States as well as the UK, Canada, and Europe.
Best for
Based on 8 ratings
Visit website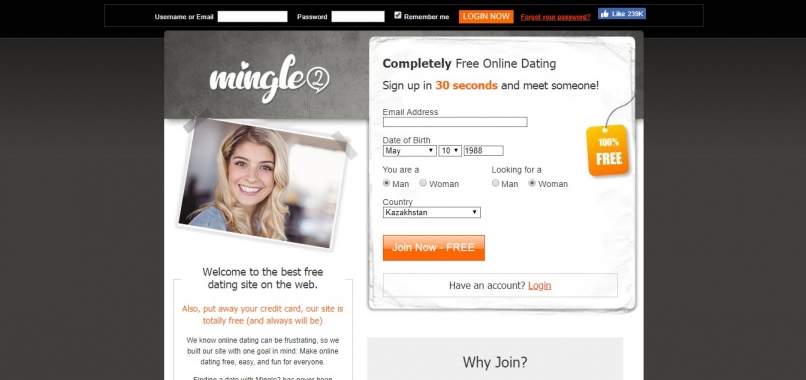 You can use the site for free or pay an extra monthly fee for premium membership (known as MinglePlus). This allows you to access a range of features including chat and to increase your profile ranking, something you might want to consider, giving you a better chance of being seen by other members.
Mingle2.com Main Features Reviewed
Mingle2.com offers features that work for people who are looking for long-term relationships or something a little less serious. It is for heterosexual and same-sex couples. After you register, you can search for people based on age, gender, looks, interests and hobbies and location. The search feature is fairly basic, as is the website and mobile app, but works fine.

The site offers a matching feature, which is also basic and doesn't seem to be very accurate. It works out who might be a good match for you by having you say yes, no or maybe to other profiles in order to narrow down the potential candidates who you can then flirt with.

Another feature is the community forums, places for people to meet and share advice and information on dating. The majority of people on the forums are from the US, meaning the dating advice is not always appropriate for people from other countries and should be approached with caution.

A lot of people use the site to meet people who live close to them so it's important to bear this in mind if you are looking for a relationship with someone who lives further afield. If you are, this still might not be the site for you as the reviews from people who have been speaking to women from Eastern Europe have said they doubt most are genuine and that they might have been the victim of a scam.

One of the major downsides for the site is that, whether you use the free option or pay the premium, you will see ads, and these can be quite intrusive and annoying, popping up every few minutes. It's easy to click on them by accident while browsing the site, meaning you end up where you really don't want to be.
Mingle2.com Pros and Cons Reviewed
Pros
Despite being basic, the site is easy to sign up for, easy to use and easy to navigate

It is free to message people on the site, though other features will need to be paid for

For those not looking for long-term relationships, it can be fun to use and help you meet people local to you
Cons
The membership is smaller than other similar sites, especially outside of the UK and the United States

You cannot use the site without seeing ads, which is frustrating and can mean you ending up on dating sites you don't want to be visiting

The focus on this site is more about meeting people locally and not on longer-term or international relationships

Reviews suggest that some people using the site may not be genuine and, with few verification requirements, might leave legitimate members open to scams.
Mingle2.com Prices Reviewed
Mingle2.com is a free site which seems to be paid for by advertisements versus memberships. There is a premium membership option known as MinglePlus which will allow you to use features such as video chat or raise your profile ranking. Unfortunately, even by taking out a premium membership you cannot get rid of the ads.
| | |
| --- | --- |
| Duration | Cost (USA) |
| | $9.95 per a month ($29.95 totally) |
| | $7.95 per a month ($47.70 totally) |
| | $5.95 per a month ($71.40 totally) |

Subscriptions automatically renew unless you cancel and there are no refunds.
Overall: Is Mingle2.com a Scam or Trusted Site?
Mingle2.com is a pretty basic site though it does offer options of a mobile site and mobile app making it flexible to use. It has a decent mix of members in the US and also in the UK, where there are 20,000 estimated users. Outside of this, it is hard to judge how many people are registered and so this might make finding relationships internationally difficult if that's what you are looking for as the site is more focused on people meeting other people locally.

Where there are international members, Mingle2.com reviews suggest that they are not all genuine and may be part of a scam. Many members talk about being asked by women from Eastern Europe asking them to join them in Google Hangout and, when they do, being asked for money or gifts. Reviews also talk about having had malware put on their computers after accidentally clicking on ads on the site, another sign that Mingle2.com may be a scam, one that could be costly.