Despite its name, UkraineWoman.net is an online dating agency that matches men from Canada, the United States and Western Europe with women from across Eastern Europe, not just Ukraine.
Best for
Based on 11 ratings
Visit website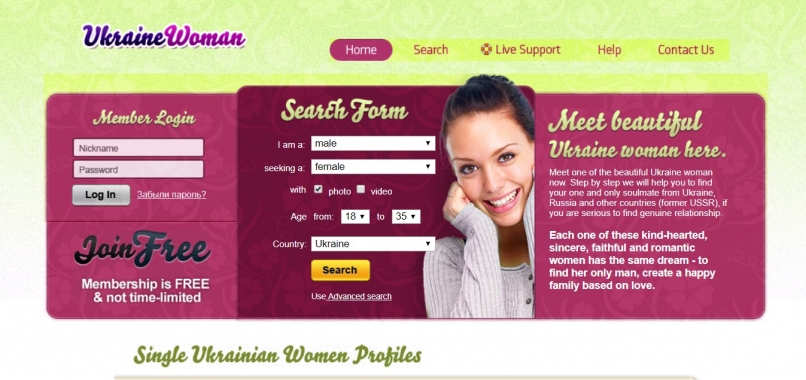 As well as men being able to search through details of women who have signed up directly, they can also get in touch with women working with marriage agencies, with the agencies acting as a go-between where needed.
UkraineWoman.net Main Features Reviewed
Once you sign up for UkraineWoman.net, you can carry out a number of different searches for the type of woman you are looking for, drilling down by age, location, English skills, and preferences when it comes to looks. You can then contact women by sending them a message or a smile or talking to them on the phone. Unlike other agencies, UkraineWoman.net doesn't offer video chat. It's free to send messages or smiles, but you won't be able to open messages unless you purchase credits, which you'll also need for phone calls and translation services.
UkraineWoman.net Pros and Cons Reviewed
Pros
Easy to use website.

Detailed profiles, letting you know a lot about women you are interested in, though there are questions as to whether all women listed are genuine.
Cons
UkraineWoman.net works with ukraine marriage agencies so your messages might be sent via them vs. going to the women directly. This can help with translation, but you cannot be 100% sure that messages are translated correctly; it can also lead to delays in communicating and higher costs.

The pricing structure is confusing as to just what services will cost you, meaning the site might be more expensive than it might initially seem.
UkraineWoman.net Prices Reviewed
To use the site, you will need to purchase credits. The more credits you buy, the less they cost:
| Credits | Cost (USD) |
| --- | --- |
| | |
| | |
| | |

Paying for services can be complicated and isn't as simple. For example, the price of opening a letter will vary depending on whether it needs to be translated, if a marriage agency is an intermediary (they charge to contact the woman and provide the internet access for her etc.), or if you are speaking to a woman who is popular. This means opening a letter could cost between $0.50 and $20.
Overall: is UkraineWoman.net a Scam or Trusted Site?
UkraineWoman.net is an attractive site with lots of attractive women on the landing page. IP searches show it's linked to up to 40 other dating sites, however, and it is not clear if these women are profiled on all of the sites, making it unlikely you will find a match if this is the case. UkraineWoman.net reviews are also concerning, with the majority making negative comments on the site, saying UkraineWoman.net is a scam and that customers do not believe the people writing the letters are not the same as the women whose profiles they are looking at. The fact that you cannot make Skype calls and see whom you are speaking to suggests this might well be the case.