There are many reasons for people to look for love overseas including the simple fact that many people — men in particular — desire qualities possessed by foreign women which have been lost in women from their own country.
Although ladies met through international dating were once given the rather unflattering nickname of 'mail-order brides', this is now very much outdated. As working hours increase and overseas opportunities are opened up, it has become now just acceptable but also practical to find love in this manner.
Big Business: How Much Is Online Dating Industry Revenue?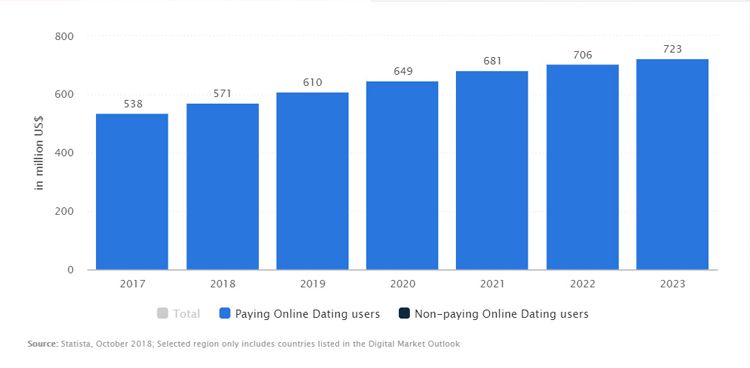 It's estimated that, worldwide, the vietnamese online dating business was worth $571 million in 2018 — more than many other, more mainstream, industries. No longer just a playground for younger people, many middle-aged people and seniors are tapping into this as a way of finding love and companionship.
Dating websites and apps work in a number of different ways depending on their design and set up. As a general, rule, platforms are laid out in a catalog format whereby users can browse or conduct a search for specific parameters such as age, height and body type.
To understand the business of international online dating, first it's important to understand the two separate categories:
Free International Dating Sites
These are sites which are free to use for members. This means that after registering on a site, you can browse, search and contact other members without charge. It's a good idea to read the small print before beginning as some international dating sites allow free browsing but charges apply if a member wants to contact another. Sites which offer free use for members are usually able to do so through revenue generated by advertising. Due to the rapid growth of the international dating industry, advertisers come from many different industries keen to tap into the market. In particular, airlines, visa companies, and other travel-related organizations tend to advertise on international dating platforms. These companies pay a large amount of money for their adverts to appear on a dating platform in the form of a banner or pop up and, it is this revenue which funds the dating site.
Paid International Dating Sites
These are international dating websites which charge users for membership. Charges are per month and can range from a nominal $25 to a whopping $1,500 for more exclusive services. As a general rule, the more expensive sites are targeted at those in the high earning brackets and the charges are designed to discourage those outside of this bracket looking for a way in. Some sites target men from the USA and UK who are looking for ladies from Eastern European countries — in many cases, these sites charge a fee to the men but allow the ladies to join for free. These kinds of sites are particularly popular for Russian dating among men from the UK and USA. Although many paid international dating sites use advertising as additional revenue, their business runs on the fees paid by members. As with many things on the internet, fake sites offer opportunities to scammers so always check up on a platform before handing over your hard-earned cash.
This Year's Dating Sites Business Model
As with any business, an international dating site must first start with a business model designed to outline its objectives, target audience and profit forecasts. This business model will ask a few basic questions:
Who will the customer be?
Who are the competitors?
What are the outlay costs?
How much profit will we make?
What are the long-term prospects?
What is the dating market size?

In more depth, the model will explore the following areas:
Lifetime customer value — this is the amount of time that you estimate that each customer will spend using your service. This is an important factor in the world of mexican dating sites as it is assumed that once a customer has successfully found a match, they will unsubscribe. A company needs to calculate how much it will spend acquiring each customer (worked out through advertising, admin costs etc) and then offset this by the amount of money generated per customer, for example, membership fees. This allows you to ensure that you are making a profit or that you are able to balance any losses with other profits.
Advertising revenue — This is the amount of money that will be paid to you by companies wishing to advertise on your website or app. You will also calculate how much you will be spending on advertising your service which will be offset against the revenue brought in.
Cost analysis — This looks at the amount of money you will need to spend in order to get your business up and running. Start-up costs for an international dating site will include; website design and hosting, marketing and advertising, employee salaries and technical staff. Although you will have some initial financial outlay which is classed as a 'one-off' many costs such as staffing, hosting and marketing will be ongoing costs. To achieve an accurate forecast of how your business will operate, you, therefore, need to balance your customer value and revenue against your costs. In order for your business to succeed, the revenue coming in needs to be higher than the costs going out in order to make a profit.
Uniqueness — You need to ascertain why your dating service is different — and better than others which are currently in operation. In order to attract the right customers, your marketing will explain just why that customer should choose your site above another one. Although many new companies rely on gimmicks which are short-lived, a company which will last the distance is one which offers results, security and value for money.
This model enables the founders to ascertain the feasibility of beginning the venture as well as calculating how much money they will need to get the project off the ground. By putting together your business model, you give yourself — and any investors — a clear idea of what your business is about, how much money you expect to make and, why you believe that it will succeed in its objectives.
When it comes to the business model, the two different kinds of international dating sites make all the difference. Although both kinds of dating service can be profitable, statistically, those which charge membership fees tend to make more money for a longer period of time. There are a number of theories to explain why this is the case:
Quality
Many feel that websites with paid membership attract a better 'class' of the member. People who are willing to pay for membership of a dating site tend to be people who are committed to finding love and have the means to pay for it.
Reputation
International dating sites which charge a membership fee tend to spend more money on mainstream advertising, i.e TV and radio commercials, magazine adverts and social media banners. This mainstream advertising lends the site an 'established' image which increases the confidence in potential members.
Longevity
Unlike many free sites, those with paid membership tend to have a reasonably long lifespan. Free platforms rely on advertising revenue and, advertisers are notoriously fickle — many companies will run an advert with an international dating site for a short time and, if they don't see results, will then discontinue the relationship.
The Formula of Dating Industry Success: East + West = Profit
Within the extremely prosperous dating industry, paid membership sites have seen particularly high profits. Many men from the UK and USA choose to find love with a belarus foreign lady and are more than willing to pay for it. A large number of western men who choose to look for love in Eastern Europe are middle-aged or older and fall within the upper echelons of the earning bracket. This means that they have the financial freedom to commit a significant amount of money to find their bride. Statistics show that Western men will spend between $5,000 and $30,000 on agency/site fees on their quest for a bride — this does not, of course, include additional costs such as gifts and visits to the lady's home country.
Many sites and apps work on the basis of a credit or token system whereby the men need to buy tokens which will allow them to send emails, open responses and chat to a potential american bride. In some cases, just sending and receiving one message will cost around $12 dollars.
Free Love
The problem faced by free international dating sites is finding the right advertisers. Many app-based services use in-app advertising to attract customers to their platform — this was particularly successful for international dating site Tinder whose Budweiser advert in 2015 generated a huge amount of revenue for the site. This is a little more tricky when it comes to international sites such as Russian dating websites. Many of these free sites will bombard users with irrelevant or outdated advertising which is counter-productive to their objectives.
Another problem faced by many free sites is that they do not have the financial ability to properly govern the site — this can lead to a number of problems including a large number of fake profiles, offensive content and general time-wasting. Whereas paid membership of dating sites is thought to generate revenue $2.15 per user, it's very difficult to gauge just how much is generated per member on free sites.
Investing in Love
Whether a site offers free or paid membership, one fundamental problem remains the same — they can be a victim of their own success. If an international dating site works and is successful, its members will find love quickly and — just as quickly — will leave the site having achieved their objective. Although there isn't the same stigma around online dating as there used to be, studies show that very few members tend to share or recommend sites with friends and family.
There are still those who consider international dating sites to only be for 'losers' and those who worry that many of these sites are scams which will swallow their money without producing results.
Despite this, international online dating continues to emerge as a booming industry — in many countries, large corporations are now investing millions in these dating sites as they recognize the very real scope for profit. To get an idea of the very real potential for profit, below we figure release from some of the top international dating sites last year:
Chinese online dating platform Jiayuan.com reported a market cap at $214.19 million and a price of $7.23.
Spark Networks closed at nearly $86 million with a price of $3.31.
Dating giant, Match, reported a cap of a staggering $2.35 billion and a price of $9.70.
Whatever your thoughts on the mail-order industry and internet dating, these figures show that this is a big business — and it's here to stay. In just a few short years, the industry has expanded beyond all expectations; from a niche market of internet-savvy young people to older professionals looking for companionship. Figures show that a huge number of Western men admire the ladylike and elegant qualities of Russian and Ukrainian women and are more than willing to pay cold hard cash to achieve their goal of finding love.
Whether you're looking to find love online or, you're thinking about investing in international dating, always make sure that you do your research and remember, if it doesn't feel right, don't do it.